Årsagerne til sygdom fra en læge eller behandlers synspunkt

Årsagerne til sygdom fra en læge eller behandlers synspunkt.
Før vi bevæger os ind i de forskellige grunde til, at man er syg, skal vi først se på dygtigheden blandt læger og andre behandlere. Der findes fantastisk dygtige læger, men desværre også læger, der er direkte farlige at blive behandlet af. På samme måde findes der både super dygtige fysioterapeuter, akupunktører, kiropraktorer, ernæringseksperter osv, men desværre også nogle, som er inkompetente. Det er nøjagtig som i sportens verden. Der finder man verdensstjerner som fodboldspilleren Messi, men også fodboldspillere, der aldrig bliver til mere end bænkevarmere på et hold i røven af fjerde division.
Forskellige diagnoser for den samme sygdom
En person, der er syg, og konsulterer 5 forskellige læger eller behandlere, for at finde ud af, hvad der er galt med ham, får ofte 4 forskellige diagnoser eller grunde til symptomerne. Årsagen til det er ikke nødvendigvis, at lægerne eller behandlerne er inkompetente – selv om de selvfølgelig kan være det, som vi så i forrige afsnit.
Jeg vil give et eksempel til at belyse, hvad jeg mener. En mand har gennem nogle uger døjet med ondt i højre hofte og smerter, der trækker ned i låret. Han går nu til en læge, en fysioterapeut, en kiropraktor, en osteopat, til røntgenafdelingen på et hospital og til en anden hospitalsafdeling, som laver en MR skanning. Resultatet kan være, at lægen siger, at han har slidgigt i højre hofte, kiropraktoren siger, at han har iskias, fysioterapeuten siger, at han har piriformis syndrom, osteopaten siger, at han har en spændt psoas muskel, røntgenbilledet viser, at der ikke er slidgigt i hoften og MR skanningen viser, at han har en diskusprolaps i lænden.
Nu er manden, som lider at ondt i højre hofte og smerter, der trækker med i låret, fuldstændig forvirret, modløs og overbevist om at det han fejler er alvorligt og meget kompleks. Noget, der sikkert vil tage flere år, at komme sig over, hvis han da nogensinde kan blive rask.
Faktisk kan de næsten alle have ret – dog i dette tilfælde ikke lægen, da røntgenbilledet jo viste, at der ikke var slidgigt i hoften. Alle de andre diagnoser er blot forskellige måder at sige, at en eller flere af de nerver, der udspringer nederst i lænden og styrer musklerne i benet er blevet klemt, så signalerne ikke kan gå ordentligt igennem.
En diskusprolaps kan forårsage, at man går skævt og begynder at spænde i psoas musklen og piriformis musklen. Modsat kan en spændt psoas muskel forårsage, at man bliver skæv i ryggen og får en spændt piriformis muskel, der nu trykker på iskiasnerven.
I dette tilfælde ville jeg blot helgardere behandlingen, og angribe de ting, som kan klemme nerven. Formentlig ville manden have langt færre smerter inden for en uges tid.
Fysioterapeuten og osteopaten ville også sagtens kunne helgardere deres behandling. De kunne godt give ham et par udspændings øvelser og et par styrketræningsøvelser, der ville dække hele området.
Det, der i dette eksempel var vigtigt at vide, var at nerven var klemt, så signalerne ikke kunne strømme frit gennem den.
De to hovedårsager til fysisk sygdom
Den menneskelige krop er en fantastisk fascinerende, men ret kompleks maskine. Der foregår en næsten uendelig mængde biokemiske processer og bevægelser af væsker og elektriske signaler hvert minut.
Heldigvis er der fra en behandler eller læges synspunkt kun to primære årsager til sygdom.
Kroppen mangler et biokemisk stof: vitamin, mineral, protein, fedtsyre, hormon eller lignende.
Væsker, elektriske signaler eller andet strømmer ikke frit. Det ser man ved nedsat blodcirkulation, ophobning af lymfevæske i vævet, klemte nerver, manglende smørelse af et led med ledvæske og flere andre tilfælde.
Nu tænker du måske. Hvad med forgiftninger, genetiske sygdomme eller hvad med dem, der har en tumor?
Fra et behandlingsmæssigt synspunkt behandles de i langt de fleste tilfælde også som en mangel eller noget der ikke strømmer frit i kroppen.
En forgiftning behandles ved at tilføje det eller de stoffer, som kroppen skal bruge for at neutralisere giften. Bid af meget farlige slanger behandles med en modgift. Man behandler det altså som en "mangel på modgiften" i kroppen. En morfinoverdosis behandles med narloxon, der er et narkotisk stof, som virker modsat morfin. Man behandler det altså som en "mangel" på narloxon.
Genetiske sygdomme gør folk syge ved at gøre det svært at optage et bestemt næringsstof eller de gør kroppen dårlig til at producere biokemiske stoffer ud af fødevarerne. De forårsager altså en mangel i kroppen. Genfejl kan også resultere i, at cirkulationen bliver nedsat i et område. Det ser man f.eks ved øjenlidelsen Retinitis Pigmentosa, hvor cellerne i nethinden dør pga manglende blodforsyning.
Man kan altså behandle mennesker med genetiske sygdomme ved enten at tilføre kroppen, det den mangler eller øge cirkulationen, hvor den er nedsat.
Folk bliver primært negativt påvirkede af tumorer, fordi de trykker på nerver, blodårer, organer eller andet væv i kroppen.
Man kan godt sige, at grunden til, at du er syg eller har smerter, er fordi din ryg er skæv, dit immunforsvar er dårligt, du har en autoimmun lidelse, du producere for mange bla bla stoffer, du har en fejl på bli bli gen og så videre i det uendelige. Men problemet med den slags forklaringer, er, at de ikke åbner døren til en helbredelse af lidelsen. De kan være nok så rigtige, men så længe, man ikke kan bruge dem til at bedre tilstanden hos patienten, har de ikke en rottefis' værdi.
Jeg har i min tidlige karriere som behandler selv mange gange gjort den fejl, at stille en diagnose, som bare er en forklaring på tilstanden.
Alt hvad en læge eller behandler behøver at vide for at behandle langt de fleste patienter er altså, 1) hvad patienten mangler og give kroppen det eller 2) hvad der ikke strømmer frit og få det til det.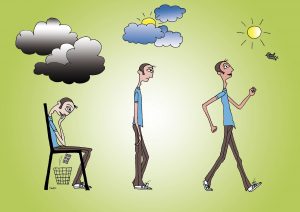 Det er for de fleste en ny måde at anskue diagnose på, men det er for patienterne en langt bedre måde, end blot at give et latinsk navn for tilstanden. Der er ikke noget forkert i at fortælle manden fra eksemplet længere oppe, at han har iskias. Man skal bare huske, også at sige noget i retning af: "Det betyder, at en nerve, der går fra lænden og ned i foden, er klemt. Smerterne stammer fra, at signalerne ikke kan strømme frit gennem den. Det kan behandles ved at …..". På den måde bliver patienter ikke forvirrede og modløse.
Hvorfor bliver en sygdom kronisk?
Det er de samme to ting, der gør sygdomme kroniske.
Når en person bliver forkølet, vil immunforsvaret normalt bekæmpe det på et par dage. Men i de tilfælde, hvor kroppen mangler C-vitamin eller andre vigtige stoffer, kan immunforsvaret ikke gøre sit job godt nok. tilstanden trækker ud og man kan blive kronisk syg.
Når en fodboldspiller får et slag på knæet, vil kroppen normalt reparere de celler, der er blevet skadet, og man kan hurtigt komme ud på grønsværen igen. Men i nogle tilfælde er cirkulationen af lymfe, blod eller ledvæske blevet skadet og knæsmerterne bliver kroniske. Man får måske endda slidgigt i knæet.
Mangel på vitale stoffer i kroppen kan gøre sygdomme kroniske. Manglende transport af næringsstoffer, affaldsstoffer, nervesignaler osv kan også gøre en skade eller sygdom kronisk.
Alt hvad man skal gøre for at reparere kroniske lidelser, er, at tilføre kroppen det den mangler eller sætte gang i cirkulationen i området.
Dog kan den fysiske struktur godt være så skadet, at man ikke kommer sig 100% over kroniske lidelser. F.eks ved folk med leddegigt, kan det godt være at leddene bliver ved med at være degenerede. Men bare personen slipper af med smerterne i leddene og får mere kraft i hænderne, så plejer de også at være glade.
Jeg håber, at denne artikel har gjort behandling af menneskekroppen lidt mere simpel.
Der er desværre nogle læger og behandlere, som vil fortælle dig, at kroppen er så kompleks, at det er meget svært at vide noget om den. De bruger ofte fine fagudtryk til at forklare, hvorfor netop din lidelse er svær at behandle. Lyt ikke til dem. En dygtig læge/behandler kan bedre langt de fleste lidelser – også de kroniske – på få dage eller et par uger.
Venlig hilsen
John Boel
Ejer af Boel Akupunktur